About Tracy Diziere, Creativity Conduit
. . . for Entrepreneurial-Minded Leaders and Founder/President, TDZ Creative Partners
As a Creativity Conduit, I help entrepreneurial-minded leaders go farther, faster with the best ideas. Whether they work within companies—or lead their own—I partner with clients to grow their businesses, uplevel their marketing output, and embody a more authentic way of living and working.
The biggest obstacle to success is a motto I lived by for far too long: "If you want something done right, do it yourself."
If you're anything like I was, you've flown solo—or aimed to—for as long as you can remember. After all, you're a disruptor. You're all about working and living outside of the box and ahead of the curve. The last thing you want to do is admit you don't have all the answers.
But… you're up against the clock, a mile-long to-do list—and a mountain of undeveloped, untested, and unrealized ideas. And maybe too many unknowns. It's clear to you that doing it all yourself has led you to a dead end.
It's humbling and scary to know that you need help.
I get it.
From figuring out my brand, to competing in a new market, to clinging to business ideas that just don't work, I've tried and failed on my own enough to know that the only way to create success is to co-create it. Which leads me to my new and improved motto:
Nothing is created alone.
Sharing your ideas, your stumbling blocks, and your authentic self with the right creative partner is the bravest choice you can make. And, it's a choice that can save you time, heartache, and the insanity of running in circles around your ideas or challenges. Ultimately, you'll achieve more.
What can you expect when you work with a Creativity Conduit?
You'll get customized support. 
The soul of your success is you—not a cookie-cutter program, a quick fix, or a guru. My approach is to roll up my sleeves and dive in to who you are, how to leverage your strengths, and what will drive your definition of success forward. In fact, this level of customization and partnership is what allows business leaders to achieve more–to actually execute on "homework" assigned by their current coaches or implement a consultant's recommendations.   
You'll gain the confidence to thrive in the unknown and the unexpected.
I don't pretend to have all the answers—and, I don't expect you to have them all, either. True creative partnership happens when people come to the table with an open, beginner's mind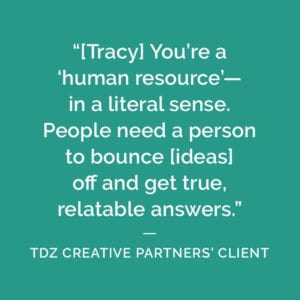 to revive stagnant ideas or meet sticky situations—such as negotiation, decision-making, or delegating—with fresh perspectives. As your creative partner, I meet you where you are and open the door to new possibilities fast—so we can get you where you want to go faster, together.
You'll optimize your ability to succeed.
When you execute a new idea—or contemplate doing so—you're putting your success on the line. That's why I'm serious about minimizing risks and maximizing rewards for any idea we bring to life. With the support of my team, I'll do meticulous analysis to examine the viability of your business, content marketing idea, or living strategies with a fine-tooth comb. We'll refine your idea until it's "fully baked"—or we'll find another way to achieve the same objectives.
You'll get to be 100% yourself.
Authenticity and success go hand in hand—so I want you to feel comfortable being yourself as my client. That means a mutual willingness to be vulnerable, to let our guards down, and to let go of the pressure to be someone we're not. (And, if that means you let an occasional f-bomb fly during a meeting… your secret's safe with me.)
Partner with me to get out of your do-it-alone slump. Together, we'll hit the ground running with clear, powerful solutions for your professional and personal success.
I'll help you actualize your best idea and meet any challenges along the way in the key areas below—and more—depending on your unique needs. You'll gain access to the wisdom I've gleaned during my 11 years of experience as an entrepreneur. You'll also leverage my extensive background in marketing, my MFA in Creative Writing, and my Gallup's StrengthsFinder coaching experience—and most importantly, the intense, creative energy AND detailed analysis needed to move forward.
Leading and Upleveling Your Business/Career
Ongoing personal and professional development with a strengths-based approach

Delegating successfully

Negotiation support

Navigating employee/co-worker/management communications and relationships 
Starting and Improving Your Business/Service
Achieving More with Others
Authentic Women's Exchange: Invitation-only, Phoenix-based "net-playing" group

Executives for Authentic Culture: LinkedIn online group
Like what you're hearing? Follow us on the social channel(s) of your choice in the footer and search our blog for more like this!